By power of sail, motor or a paddle and even hybrid solar/electric, the Rideau Canal and its associated Tay Canal are amazing boating destinations.
Having 45 locks at 27 lock stations, the Canal is chain of beautiful lakes running 202 km from Lake Ontario in Kingston to the Ottawa River in Ottawa, with a 10KM side trip to the Town of Perth. The canal is a mecca for boaters and is well marked with buoys, for easy and safe navigation, and offers un-paralleled viewing of scenery and wildlife, and introduction to the area's late 18th century history. Planning on touring the Rideau Corridor could not be more easy or fun.
For the most current and accurate Rideau boating guides and navagational charts click on the following links: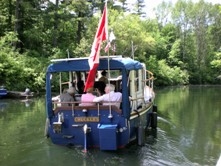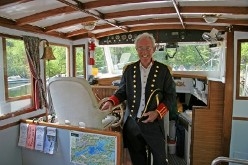 rideauboattours.com Rideau Canal Boat Tours
Cruise along the Rideau Canal from Jones Falls (passing through Davis Lock) to Chaffey's locks with Rideau Canal Boat Tours. Join Captain Lance aboard his 30 ft. Cruiser "Chuckles" as he narrates the history of the Rideau Canal in full 1840s naval attire.
Contact: Lance Jervis (613) 272-0222
The Rideau Experience Vayageur Canoe Tours
What makes these tours unique is that they take place in 34-foot replica voyageur canoes with guides in voyageur costume! With up to 36 participants leisurely paddling in the two canoes (up to 18 per canoe), the tours explore both the natural and historical aspects of the Rideau Waterway.
Contact: Rideau Experience Coordinator 613-269-3415
Enjoy 5-days and nights on board the Kawartha Voyageur cruising along the Rideau Canal and Trent Severn Waterway in the comfort of the 45 passenger riverboat with dining room, lounge, and twin lower berth staterooms with private facilities.
Contact: 800-561-5767
Explore one of Canada's newest UNESCO World Heritage Sites, the Rideau Canal aboard our Spring Bloom or Autumn Foliage cruises. Relive that bygone era of genteel river cruising on a one-way, one-day or two-day cruise between various ports and villages on the historic Rideau Waterway.
Contact: 1000 Islands and Seaway Cruises 800-353-3157
The Rideau King, afifty foot steel tour boat sails Monday through Thursday every week from it'shome port of Merrickville, Ontario on the historical Rideau Canal.
Contact:1-613-269-9342
TheTay Canal offers a unique experience for all interests:
For history enthusiasts – the Tay Canal, designated a World Heritage Site byUNESCO in 2007, with the Rideau Canal system, passes numerous historic sites,including elements of the original 1834 Tay Canal;
For wildlife followers – the Tay Marsh, beside the Perth Wildlife Reserve, is aprovincially significant wetland, and one of the best wildlife viewing areas ofthe region;
For outdoor lovers – the canal winds through peaceful and pristine easternOntario countryside, with tree-lined parks, fields, and forests.
Contact:1-613-264-0094
A houseboat is your cottage & boat rental all in one, wake up to a different magnificent view, a new spectacular lake every day of your vacation Rideau Canal Waterway & Rideau Lakes "Beauty beyond Imagination"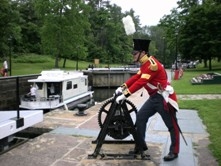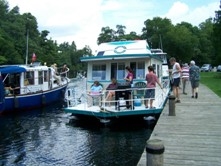 bigrideaulakeboatrentals.com Big Rideau Lake Houseboat Rentals
Contact: Heather 1-613-272-2580
Contact: Barb (800) 280 9390