When House Boating on the Rideau wake up every morning to a new and magnificent view with countless kilometers of pristine shoreline that await your exploration.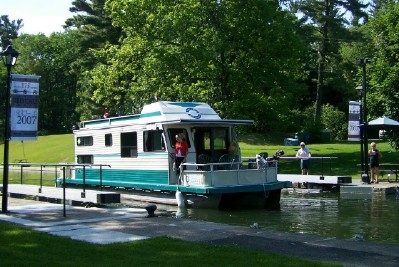 Hiking trails, spectacular look outs, swimming, shopping, awesome fishing or lazy days on the deck are yours to discover from the comfort of your home away from home.
Big Rideau Lakes Rentals / Houseboats – Portland:
Houseboat rentals for the Rideau Waterway centrally located on Big Rideau Lake.
Newly refurbished in 2011, these 32′ & 42′ houseboats sleep 6-8 people and are pet friendly
Heather Heins at Tel: 613-272-2580
email: www.bigrideaulakeboatrentals.com
Waterway Get A Way – Houseboat Vacations – Smiths Falls:
Houseboat rentals for the Rideau Waterway.
Three houseboat models – all sleep 6 to 8 people. No pets.
Don & Barb Sharman Call: 1-800-280-9390.
email: www.waterwaygetaway.com
Houseboat Holidays Gananoque:
Houseboat rentals for the Rideau Waterway and the St. Lawrence, 1000 Islands.
3 models of houseboats from 38 to 48 feet which accommodate 6 to 10 people.
Pets allowed. Tel: 613-382-2842.
email: http://www.gananoque.com
Great for houseboat enthusiasts check out our Rideau Heritage Route paddling itinerary. Experienced area canoeists and kayakers have contributed a wealth of information to this colourful itinerary which takes you all the way from Kingston to Ottawa along the historic Rideau waterway.